Posts Tagged 'iMoot'
At #iMoot15 Miriam and I facilitated as session aimed at getting a conversation going and gathering information in the Moodle community about how we manage enrolment, access, and semester rollover. Miriam and I hoped that this would feed into the working group at #mootau15 on archiving and roll-over.
Our institute is reviewing how we manage enrolment, access and course rollover in Moodle. We have struggled to find solutions that work across the board and maintain an exception list that we see increasing. Initial conversations with other institutes suggested that the perfect solutions are yet to be established. We hoped this iMoot discussion would build on the work started at https://docs.moodle.org/28/en/Year-end_procedures and in the forum https://moodle.org/mod/forum/discuss.php?d=50298 and that we could find out more from the Moodle community about what the issues we collectively have so as we can understand them better and work towards resolving them.
Our iMoot presentation is here and the details on the Moodlemoot working groups are here. Note there are two working groups, so check out the assessment analytics working group too.
If you are able to share your institutes current enrolment/access/rollover practice please complete our form here or get in touch with us.
We have so far found that most institutes do not automate creation of groups, and many duplicate courses each time they are run. Each institute has their own approach to where the teacher's role starts and ends.  With everyone using different student management systems, and having different strategies around re-use of courses and access periods for students to their learning resources (and artefacts the students create!) it is very helpful to share ideas on how to meet the requirements of your institute and your learners.
You can also comment on this blog post if you prefer. Looking forward to further discussion.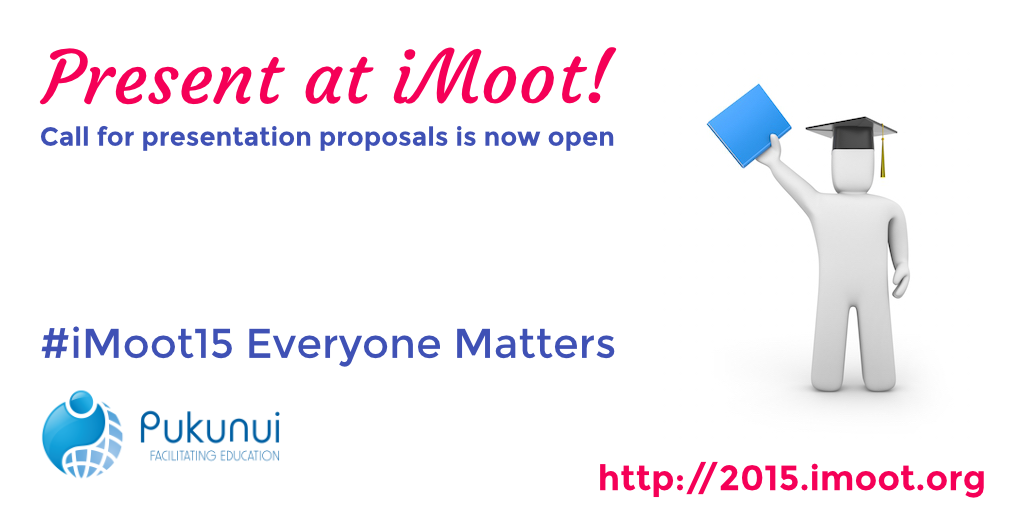 If you use Moodle, don't forget to register for the global online Moodle Conference iMoot15 and "come on a learning journey with us" Thursday 28 May to 1 June 2015 (you should totally check the local times for this) #iMoot15 Everyone Matters.
If you haven't attended before, you can listen to the Free Moodle podcast where Vinny Stocker is interviewed by Stuart Mealor from HRDNZ.
Nearing the end of day 1 of the iMoot 2011 and I have enjoyed watching some of the sessions from the comfort of my couch.
There is a bit of something for everyone in the conference programme this year. Today I have listened to Julian talking about his passion for Moodle, even calling it "married to Moodle". I have heard Sue Dark talking about Totara, catering to corporate Moodle users. I have heard Tomaz talking about Mount Orange School, the demo site, which is a great way for people to try out Moodle 2 and for getting tips on course design. Miriam talked on Moodle and Second Life, and the Moodlebites talk from Stuart helping those who need to do staff development for Moodle 1.9 and newly available for Moodle 2.0 (in English and Spanish!).
If I could handle staying awake until 1.30am I would attend Shane's talk about the history of Moodle; luckily I can replay the session at a more NZ friendly time.
Anyway, three more exciting days to go, and I think/hope I am all ready for my presentations.